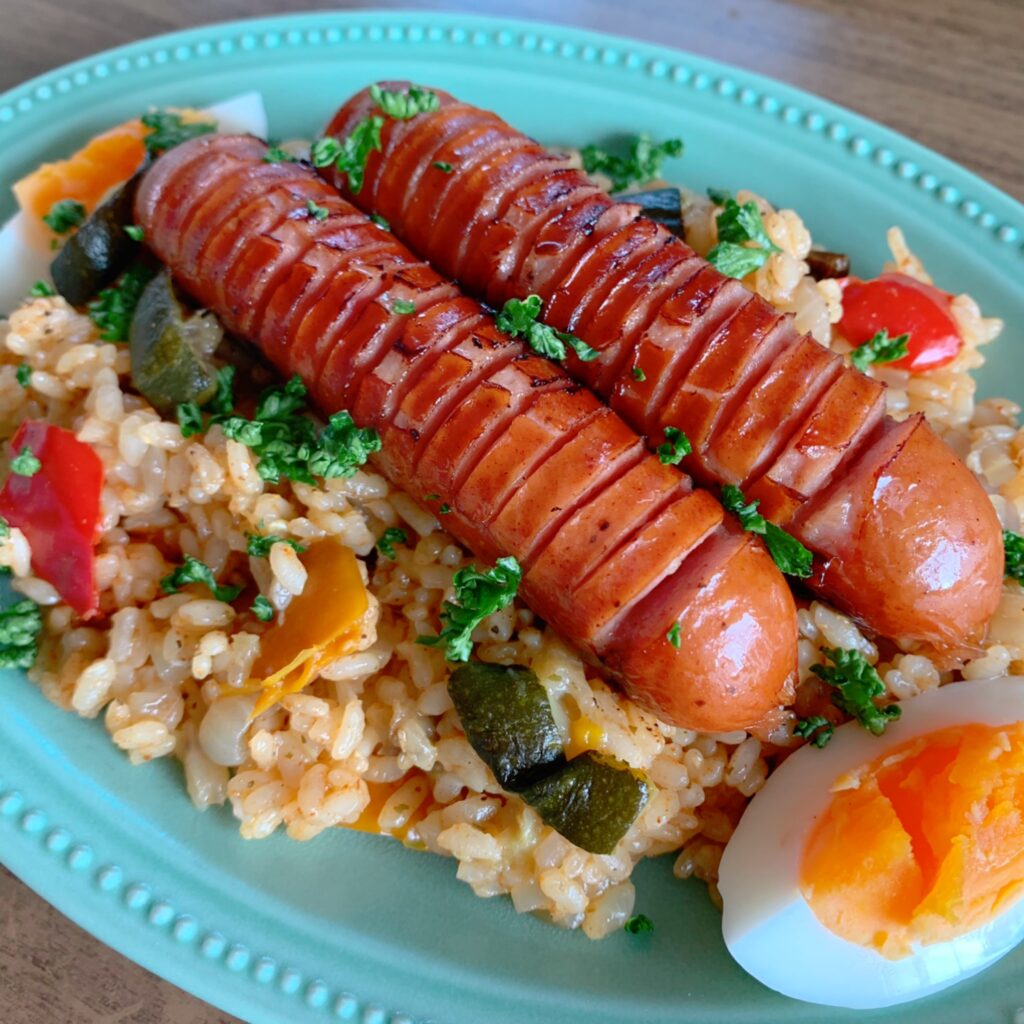 つぎのページで日本語で解説しています(*ˊᵕˋ)♡‧₊
Jambalaya(ジャンバラヤ)
What kind of dish is Jambalaya??
Jambalaya is rice seasoned with Cajun spices. It is said to be a local cuisine of Louisiana. The aroma of spices is attractive.
I used sausages this time, but you can also use chicken or shrimp.
Johnsonville sausages are full of volume. I was surprised when I first saw it. It used to be sold at Costco, but now you can buy it at other supermarkets.
And I tried cooking rice in a pressure cooker instead of a rice cooker. Of course, you can also make it in a rice cooker.
NUTRITION FACTS
400 kcal Protein 10.2g Fat 10.1g Carb 66.2g Salt Equivalent 2.1g
INGREDIENTS (4SERVINGS)
rice 300g
onion 140g
celery 40g
garlic 5g
paprika 60g
zucchini 60g
eggplant 60g
oil 5g
☆water 400g
☆consommé 10g
☆Cajun spice 8g
☆salt 2g
☆pepper moderate amount
4Johnsonville sausages
egg
parsley moderate amount
The spice is "Cajun Mix" sold by Mascot Foods and can be purchased at Kaldi, Kitano Ace, Amazon, etc. Spicy Cajun-style seasoning with paprika and chili peppers as a base, blended with herbs and spices such as oregano.
COOKING INSTRUCTIONS
※Wash the rice and soak it in water for 30 minutes to 1 hour.
①Dice the onion, celery, garlic, paprika zucchini and eggplant.
②Heat the oil in a frying pan and fry the vegetables quickly.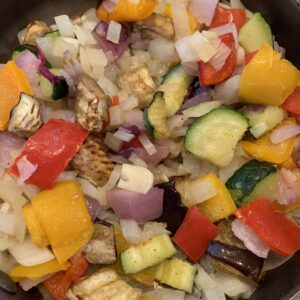 ③Put rice in a pressure cooker, and the vegetable on the top. Add water, consommé, cajun spice, salt and pepper.
I use a T-fal "Clipso Minut Easy" pressure cooker. The content is 4.5L.
④Pressurize for 3 minutes. Turn off the heat and let wait until the pressure releases.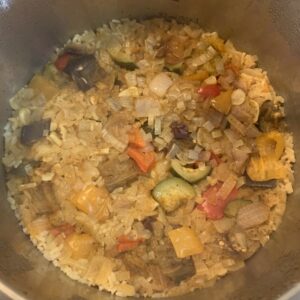 ⑤Make cuts in the sausages.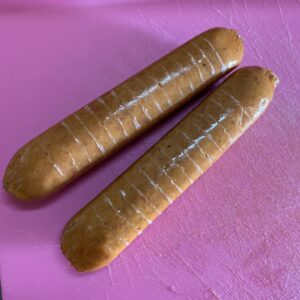 ⑥Fry sausages in a frying pan until browned.
⑦Make boiled eggs while waiting.
⑧Put wieners, egg, and parsley on the rice.
---
---