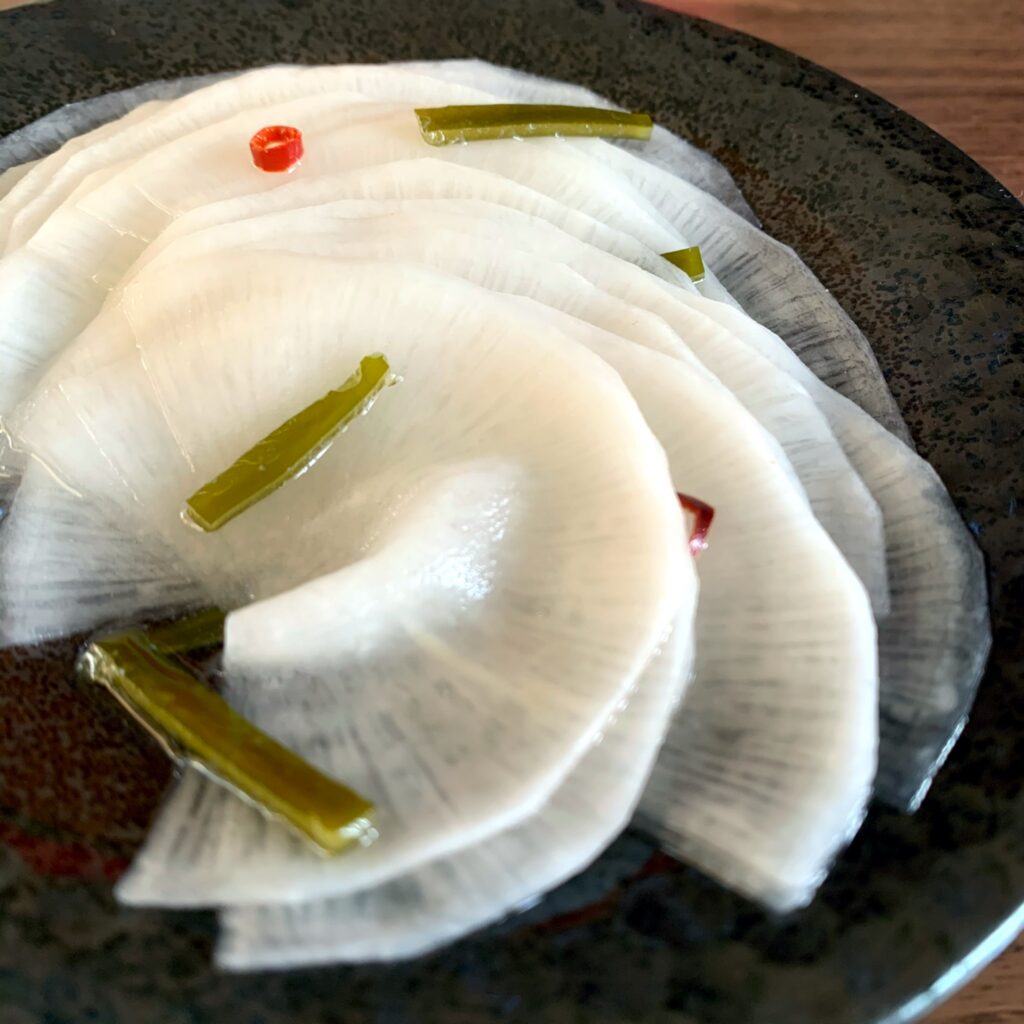 つぎのページで日本語で解説しています(*ˊᵕˋ)♡‧₊
Senmaizuke(千枚漬け)
What kind of dish is Senmaizuke??
Senmai-zuke is one of Kyoto's pickles, and is considered one of Kyoto's three major pickles along with suguki-zuke and shiba-zuke. Kyo-yasai "Shogoin Turnip" is often used.
It is said that the name comes from the fact that turnips are sliced so thinly that they can be said to be 1,000 pieces. Turnip is hard to come by depending on the season, so I use Japanese radish. Using a slicer makes it easy.
The kombu is soaked together, so it has a little viscosity. It's not rotten. It has a short shelf life, so eat it up within a few days. It is recommended to eat as a snack with sashimi.
Please enjoy the taste of Kyoto in your own home♡*゜
NUTRITION FACTS
369 kcal Protein 2.9g Fat 0.7g Carb 89.2g Salt Equivalent 10.3g
INGREDIENTS
Japanese radish 600g
vinegar 90g
sugar 60g
salt 10g
kelp 2×6㎝
chili pepper moderate amount
COOKING INSTRUCTIONS
➀Peel off the skin of the Japanise radish with a peeler, and cut that into 2 mm thick slices. Thin Japanese radish can be used as is. Cut large Japanese radishes in half lengthwise and then slice.
②Wipe the surface of the kelp with kitchen paper and cut it into thin pieces.
③Mix vineger, sugar and salt.
④Soak kelp, chili pepper and Japanese radish.
⑤Leave in the refrigerator overnight.
MEMO
Kyocera's ceramic slicer remains sharp even after many years. I use it habitually.
---